The Twitch Overlay Black Friday & Cyber Monday extravaganza is coming up, and you can pick up discounts on stream overlays, twitch alerts, stream packages, streaming screens, and twitch panels.
How do I get discounted items this Twitch Overlay Black Friday?
In most cases you won't need to do anything to get money off this Twitch Overlay Black Friday, as we'll be applying site-wide discounts and money off that you'll see as you browse our library of twitch overlay templates.
If any discount codes become available you'll be able to see them on the dedicated discount code page.
What twitch overlays, twitch alerts, and twitch panels will be discounted?
Everything! To put it simply. You'll find our discounts are applied across the site, and on everything from stream packages to twitch banners & avatars.
Everything in our premium downloads will be 10% off until the end of Cyber Monday (30th November 2020) but the discounts don't end there, keep an eye on the site and our Twitter page for further discounts to individual items, and even whole categories.
Our best selling twitch overlay downloads
If you need a little inspiration, here's a rundown of our top 3 best selling stream overlays & packages in 2020:
The VX Pro family of designs are hands down our most popular twitch overlays, and this animated twitch overlay in a very stylish chroma finish is the king of kings.
Since arriving it's shot to the top of our sales charts, and with good reason. Check out this stylish animated stream package for yourself.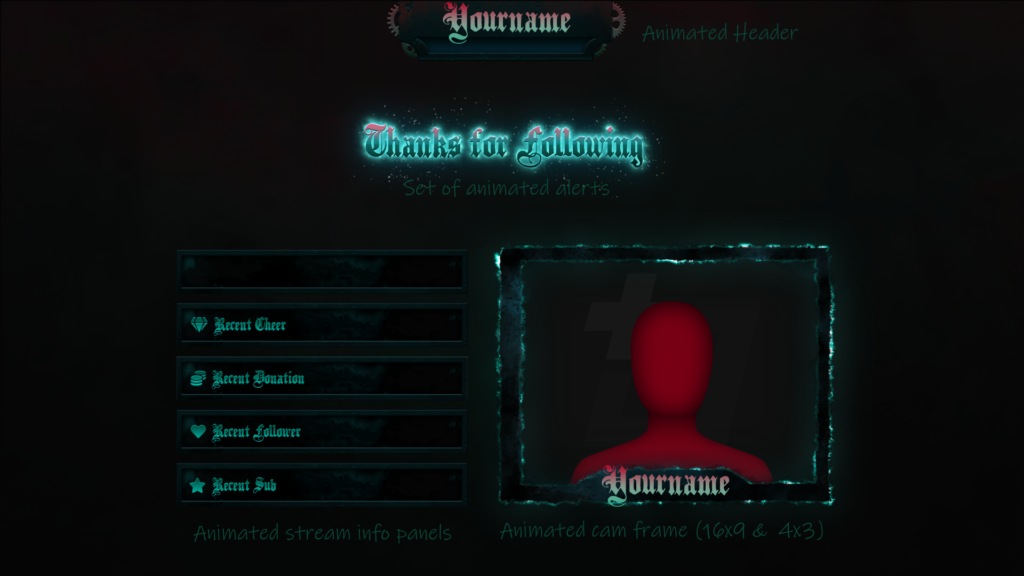 One of our strengths at Twitch Overlay is diversity in design. Where a lot of stream overlay sites are pumping out variations on a similar theme, we've tried to keep the stream designs here as broad as possible.
Gothicon is one such design, an awesome set of gothic designs featuring a webcam overlay, streaming screens, twitch banner & avatar, twitch panels, and twitch alerts.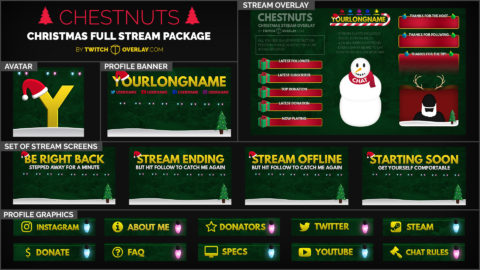 Black Friday means Christmas is just around the corner, so why not get in the spirit with Chestnuts, our Christmas stream package.
Not only does it feature a christmas twitch overlay, but also christmas streaming screens, christmas twitch panels, christmas twtich alerts, christmas twitch banner & avatar, hell it even features a fun & dumb santa beard you can throw over your webcam for a joke.
Finally, keep up to date
As mentioned previously 10% isn't the only saving you'll be seeing on twitch overlays this period. There's bound to be changes and updates to individual items so follow our Twitter for all the great savings we have lined up.