Halloween is one of the best periods of the year to be a streamer, and there's no better way to get your stream in the mood than with one of these Halloween twitch overlays. This list has been updated for 2021, so take a look what's made the cut this year.
All Halloween stream overlays included are Streamlabs OBS, OBS Studio, and xSplit compatible, and guaranteed to B0OoOost (sorry) your Twitch & YouTube Gaming stream's visibility to viewers looking to get spooky.
Gothicon – Animated Halloween Stream Overlay Package
Straight from the slums of Yharnam comes an animated Halloween twitch overlay with a gothic & macabre twist.
https://twitchoverlay.com/downloads/gothic-stream-package/
Skull House – Halloween Stream Overlay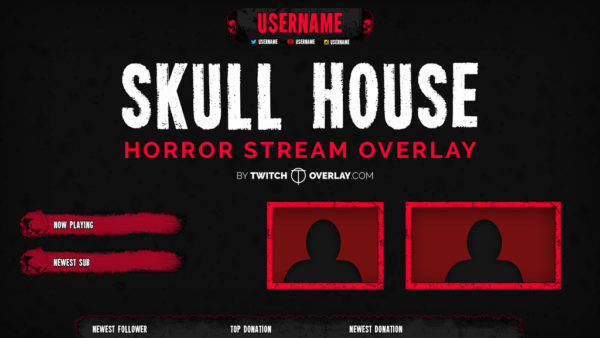 This one's a more hack 'n slash halloween stream overlay, going a bit John Carpenter with the look and feel.
https://twitchoverlay.com/downloads/skull-house-horror-stream-overlay/
Chomper – Halloween Twitch Overlay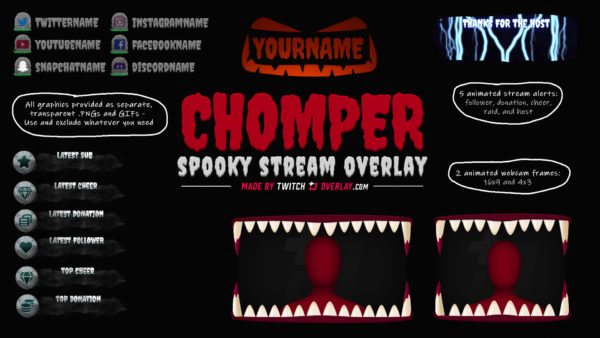 Chomper is one of the most recent additions to the horror line-up of stream overlays on the website. It features a pumpkin-carved header, lightning animated stream alerts, and a webcam frame featuring fangs dripping with blood.
https://twitchoverlay.com/downloads/chomper-halloween-stream-overlay/
More Halloween Twitch Overlays
As always, content is constantly getting added, so keep an eye out for more Halloween twitch overlays being announced on Twitter, Instagram or Facebook.