Download Description
VX Pro Red is a fully animated red overlay for use on Twitch, Mixer, and other major streaming platforms. Compatible with the most popular streaming apps and software, like OBS, Streamlabs, and xSplit.
What's in this animated red overlay download
It comes in an eye-catching, bright red colour, and features…
pulsating panels
social boxes with rolling (and platform-applicable) colours
a background with falling red rain
a set of animated stream alerts
and a fully stylised and animated webcam featuring a lower space to place your name.
Other animated stream overlays and elements from the VX Pro family
There are now also VX Pro animated stream screens available, for anyone out there looking to bring your transition screens to life alongside your overlay.
Is blue more your shade? VX Pro is available in that colour too! Click here to check it out.
VX Pro uses a combination of .AVI and .MP4 video files, so please only purchase if you're using software that will allow you to add these file types to your stream space.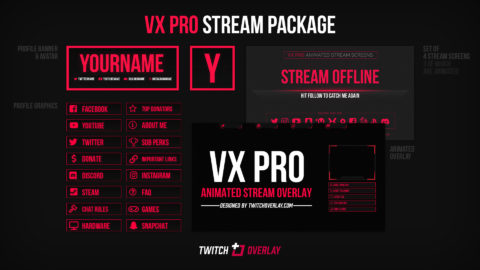 Upgrade Available
If you like the look of this download, consider checking out VX Pro Red – Animated Red Stream Package and expanding on this stream design with a bunch of added extras, including personalisation in some cases - take a look for yourself!