In this animated red stream package...
Animated Red Stream Overlay
This features pulsating panels, social boxes with rolling (and platform-applicable) colours, a background with falling red rain, and a fully stylised and animated webcam featuring a lower space to place your name. This also includes a collection of animated stream alerts in .GIF format.
Animated Red Stream Screens
3 animated stream screens featuring the same falling red rain from the overlay, and approriate text depending on the messaging you require. Also includes static stream offline screen (Twitch does not allow animated offline screens as yet).
Red Twitch Banner & Avatar
Styled to match the rest of the designs, these are static designs (Twitch does not allow animated avatars or banners as yet) that you can easily edit with your own details in Photoshop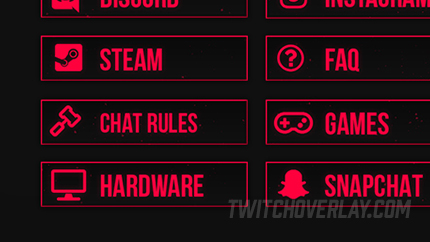 Red Profile Panels
16 individual profile panels to use for headings, all matching the style of the rest of the package.
Tiered Red Sub Badges
Package includes 5 levels of sub badges to celebrate and highlight long-term supporters of your channel.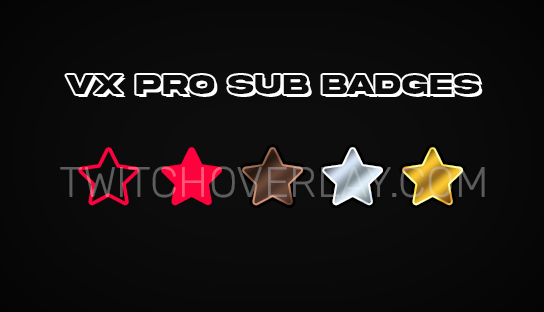 Download Description
VX Pro Red, our (mostly) animated red stream package for Twitch & YouTube Gaming, features a combination of smart, flat, minimal colouring and dynamic backgrounds and animations to give streams some visual flair without being completely distracting, or obscuring the gameplay or broadcaster.
VX Pro uses .MP4 video files, so please only purchase if you're using software that will allow you to add these file types to your stream space. Software such as OBS Studio and xSplit, for instance, support adding video files.