Download Description
Razor Red stream alerts for use with Streamlabs, Stream Elements, and other stream alert services. Perfect for shouting out supporters of your Twitch or Mixer channel, be they new followers, subs, hosts, raids, or people contributing donations.
What's in this red stream alerts download?
Both static .PNG files and animated .GIF files with headings thanking supporters for the actions detailed previously. Download also includes a .PSD file for you to create your own, static alert from a template.
Can I see the animated twitch alerts in action before downloading?
Of course, if you click the tab above titled Animation Example there'll be a demo waiting for you.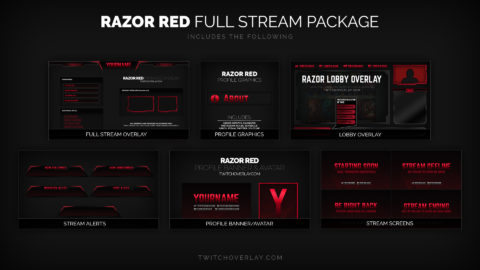 Upgrade Available
If you like the look of this download, consider checking out Razor Red – Red Stream Package and expanding on this stream design with a bunch of added extras, including personalisation in some cases - take a look for yourself!