Download Description
Top Corner is a free FIFA 20 Twitch overlay styled around, and inspired by the colours and vibe of the game. It features a very vibrant mixture of off-reds and deep purples that pop off the screen, and help your stream look a little more eye-catching in the running order of the FIFA 20 streamer page.
Included in this free FIFA 20 Twitch overlay download are a number of things, including…
Header – bright colors contrasted against a deep dark nameplate so your identity stands out
2x info panels – show off your latest follower, and latest donation
2x webcam frames – 16:9 and 4:3 webcam frames to fit most standard webcam sizes
Background – subtle, more muted running together of the 2 prominent colors in this download in 1080p sizing
.PSD file – personalise the header yourself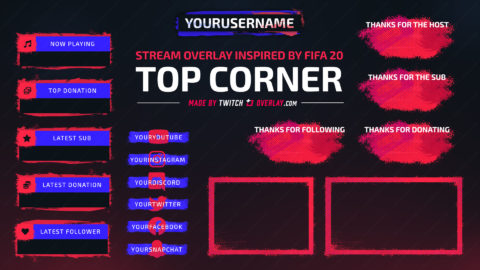 Upgrade Available
If you like the look of this download, consider checking out Top Corner – FIFA 20 Twitch Overlay and expanding on this stream design with a bunch of added extras, including personalisation in some cases - take a look for yourself!