Twitch Overlay is here to provide christmas stream overlay, twitch panels, twitch alerts, and streaming soon & brb screen downloads to those of you out there spending time with your extended online families (yes, stream audience) this holiday season.
Where do I get a Christmas twitch overlay?
We not only have a Christmas twitch overlay, but a whole damn Christmas stream package. It's called Chestnuts, and I'll break it down for you.
Christmas Stream Overlay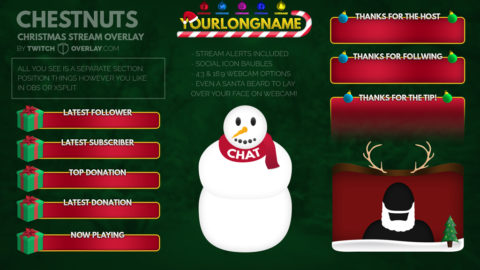 The most importat part of any package, the overlay. It's what your viewers will be staring at most. This one's full-on holiday spirit, top to bottom. A Christmas webcam overlay styled around reindeer horns and snow. Candy cane twitch header. Snowman chat. Hell, there's even a santa beard to hover over your webcam for a joke.
Take a look at the Chestnuts Christmas Twitch Overlay
Christmas Twitch Panels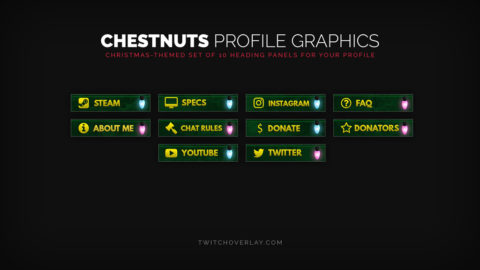 Alternating colored fairie lights are the theme for these christmas profile panels. Show your visitors all sorts of important stream info in a festive style.
Take a look at the Chestnuts Christmas Twitch Overlay
Christmas Streaming Soon & BRB Screens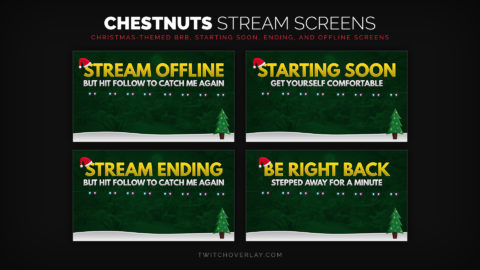 Not only streaming soon & brb screens, but stream offline and stream ending for Twitch, Mixer, etc. All 4 feature a snowy lower section and forest back drop, like a window outside.
See the Chestnuts Christmas Streaming Soon & BRB screens
Christmas Twitch Banner & Avatar set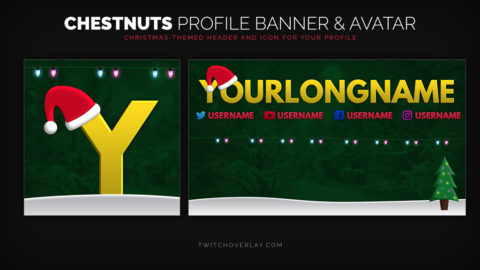 Keep your branding festive with this matching Christmas twitch banner & avatar set. Features space for your social media info.
Festively spruce up your Twitch profile with the Chestnuts Twitch Banner & Avatar set
Christmas Stream Package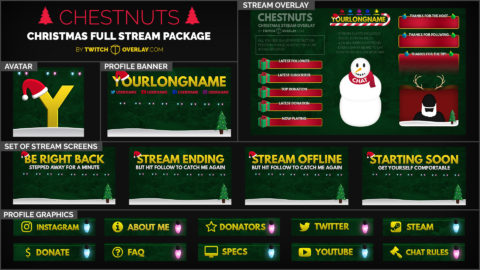 If all of the above sounds good to you, and you wanna go all in on the Christmas vibes, perhaps consider this Christmas stream package. It has everything noted above, and brings it all together at a reduced cost.
Browse the Chestnuts Christmas Stream Package
Do you offer a free Christmas twitch overlay?
The season has only just begun, and there's no doubt going to be more Christmas twitch overlays, alerts, and panels on the way. To keep up to date with the release of these new items, be sure to follow us on Twitter or Instagram. You can even signup to our newsletter, and get them delivered straight to you.
Thanks for reading
Wishing everyone out there a happy holiday period, and to you and your extended families on Twitch, a happy new year!
See other blog posts from Twitch Overlay
If this was useful, it might be worth checking out the rest of our blog posts. It's often the first place we announce site updates, and helpful streaming guides like how to use a twitch overlay or how to customise your twitch overlay .PSD in Photoshop. As well as other useful guides & tips for streamers setting up their twitch overlays, twitch alerts, or streaming screens for the first time.