Download Description
Starter is a free red overlay giving you the basic, foundational graphics you need to get yourself started in streaming.
This stylish package includes a header graphic, webcam frames in 4×3 and 16×9 ratio, a blank panel, a blank alert box, 4 social icons, and a subdued background to fill your streaming window, while not being too distracting.
If you like the Starter overlay, and would like to expand on the graphics it includes, check out Starter Deluxe. This bumper version includes numerous extra panels, alerts, and social icons.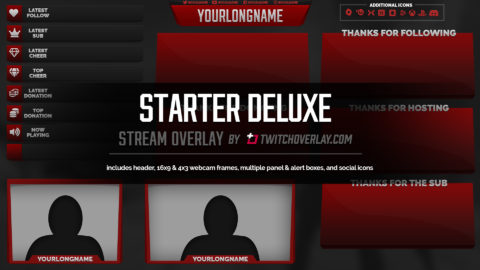 Upgrade Available
If you like the look of this download, consider checking out Starter Deluxe – Red Overlay and expanding on this stream design with a bunch of added extras, including personalisation in some cases - take a look for yourself!