Download Description
Razor Purple free purple twitch alerts for use with Streamlabs or Stream Elements, plus any other service offering stream alerts. Good for giving a shout to supporters of your Twitch or Mixer channel, be they new followers, subs, hosts, raids, or people contributing donations.
See the rest of the Razor stream design family, an extensive library of matching elements.
What's in this free purple twitch alerts download?
Included are .PNG files (static) and .GIF files (animated) with headings thanking supporters for the actions detailed previously.
Can I see the animated alerts in action?
Yup, the above tab titled Animation Example should show you exactly how these look in motion.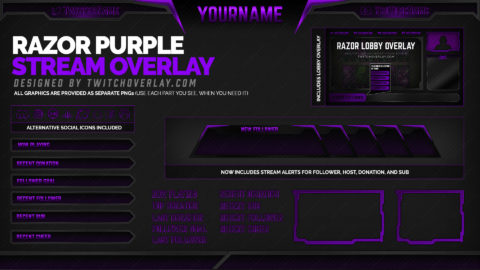 Upgrade Available
If you like the look of this download, consider checking out Razor Purple Twitch Overlay and expanding on this stream design with a bunch of added extras, including personalisation in some cases - take a look for yourself!