In this neon green stream package...
Neon Stream Overlay
Many elements of the Neon Titan stram overlay have been updated in 2022.
Cleaner and more energized animated cam borders: provided in 16x9, 4x3, and square formats - plus a sash/animated bar for green screen users.
A set of stream info panels to show off latest follows, subs, bits, and more.
6x animated stream alerts to shout follows, bits, subs, raids, hosts & donations.
Neon Stream Screens
3 fully animated and elecrtified green stream screens, plus a static offline screen. Also energized social media icons to use on your screens and your overlay.
Neon Twitch Banner & Avatar Templates
Templates for matching neon green twitch banner & avatars to keep your branding consistent.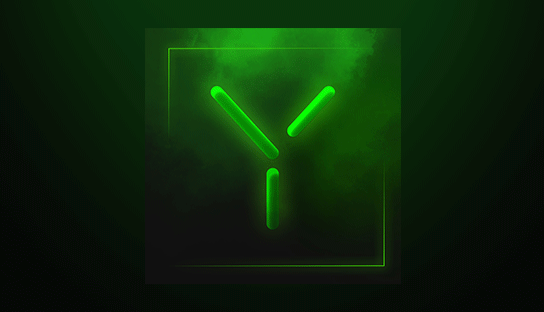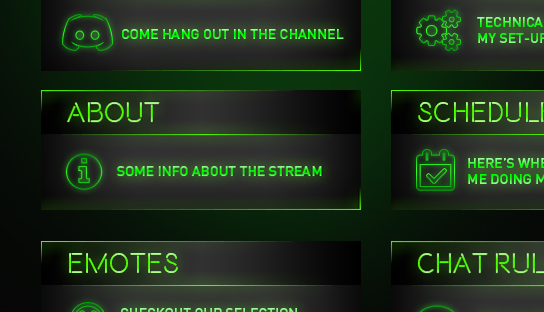 Neon Twitch Panels
A bumper set of 16 profile panels/headings, including: About, Chat Rules, Discord, Donate, Facebook, Goals, Hall of Fame, Instagram, Links, Other Social, Schedule, Snapchat, Specs, Twitter, & YouTube.
Download Description
Neon Titan is a slick, neon green stream package for Twitch & YouTube, and compatible with OBS Studio & Streamlabs. Included is just about every element you could need to decorate your stream and profile.
As the name suggests, these designs feature a matching, hazy green colouring throughout, each graphic creating a neon effect that is striking but also subtle. Where many designs go full-on, balls to the walls with their neon colouring, Neon Titan is a restrained and cool attempt at this kind of look that will not overpower your stream.