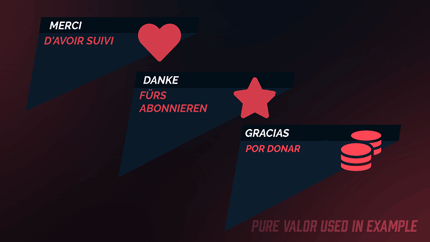 green valorant twitch overlay en Español, auf Deutsch, en Français
This green valorant twitch overlay now features important elements in Spanish, German, and French language options.
Download Description
Pure Valor is a Green Valorant Twitch Overlay for Streamlabs OBS, OBS Studio, and xSplit. It's inspired by the style of the game, but you can use it on anything you like.
Will this work for streaming games other than Valorant?
Of course! These are just graphics inspired by Valorant, they don't require being connected to the game or anything. If you like the look of these and wanna use them to stream other stuff, go right ahead!
What is in this Green Valorant Twitch Overlay download
Animated header (GIF)
6 animated alerts (GIF) – celebrate new follows, donations, subs, cheers, raids, and hosts
6 animated social panels (GIF) – Display info for Twitter, YouTube, Instagram, Facebook, Discord, and Snapchat
6 animated stream info panels (GIF) – Show of recent follows, subs, donations, and cheers
Animated webcam overlay (GIF) – provided in 16×9 and 4×3 formats
Animated background – subtle animated background to fill the screen when there's nothing to show
In the style of this Green Valorant stream overlay
This belongs to the Pure Valor family of stream designs, and this overlay is also available with an orangey-red hue. Checkout the original Valorant Twitch Overlay here.